Celebrating 10 Years of helping drinks brands go further, faster
A Decade Distilled
From a small team of founders and our first £1M investment to a 30+ team supporting a global portfolio of boundary-defying drinks brands. As we reach our 10-year milestone, we're taking a moment to reflect on our favourite moments and share them with you. Join us as we distill a decade of memories and milestones into one unforgettable journey.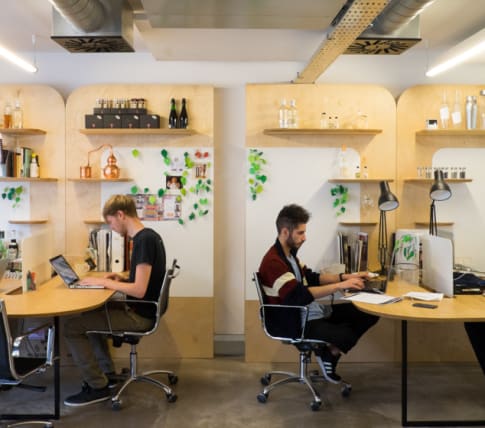 h

2013
Distill Ventures launches
FOUNDER-LED FROM THE BEGINNING
Our founding team took inspiration from the booming world of tech start-ups and approached Diageo with an idea to incubate and support early-stage founders and their drinks brands. As our sole investor, Diageo and Distill Ventures formed an exclusive partnership and together, we made our first investment into Belazar Vermouth.
h

2014
Curating our portfolio
Our first non-alcoholic drinks brand
We searched for new brands to grow our portfolio from our first investment. Powered by a thirst to see delicious non-alcoholic drinks on the menu and a homemade kitchen experiment, Ben Branson formed the idea of Seedlip - the first non-alcoholic drinks brand- to challenge soft drinks and highly sweetened mocktails.
Mr Black Cold-Brew Coffee Liqueur
Designer Tom Baker combined his love for good drinks and great coffee and brought a cold-brew coffee liqueur, Mr Black, to our attention. Two years in, we had onboarded two category-defining brands that go on to change the face of drinks.
h

2015
A NEW WORLD OF WHISKEY
A new era of whisky exploration began as consumers started to break away from traditional whisky-making regions in Scotland, Ireland, the USA and Japan and neat-only serves.
Countries like Australia, New Zealand, England, and India emerged as innovative players in the whisky game, with exciting new bottlings to offer and enticing ways to mix them.
This was the perfect time to welcome Starward Whisky and Stauning Whisky to our portfolio. Together, we set out to redefine what whisky could be and challenge old perceptions.
h

2016 - 2017

As our portfolio grew, so did our team and it wasn't long before we had launched Distill Ventures in the USA.
MEANWHILE
In 2017, we reached A HUGE milestone as Belazar Vermouth, our inaugural portfolio brand, became the first official acquisition by Diageo.
h

2018
NEW WORLD WHISKEY THRIVES
Westward Whiskey joined our portfolio, and Diageo acquired the peerless Kikori Whiskey.
As the whisky world evolved, we noticed consumers responding to Seedlip and other non-alcoholic brands' sophisticated solutions to the "what to drink when you're not drinking?" conundrum.
h

2020

As the demand grew for non-alcoholic drinks to offer challenging, complex flavours, and an elevated drinking experience to soft drinks, Ritual Zero-Proof joined our portfolio with 1:1 non-alcoholic spirits and a refreshing alternative to the aperitif moment.
h

2021
Pre-Accelerator program launches
Our belief that the most exciting liquids come from founder-led brands, where flavour, innovation and provenance of liquid are celebrated and sought after, championed the launch of a Pre-Accelerator Program in 2021.
An initiative to increase representation at a founder level to kickstart a trickle-down effect that positively impacts diversity throughout the drinks industry.

Plus - an award-winning year
Every brand in the DV portfolio won medals at the San Fran Spirits Competition - 46 Gold and Double Golds to be precise!
In the same year, Kanosuke Distillery joined the portfolio.
h

2022
The Acquisition of Mr Black
After a long and unforgettable journey with Mr Black and Founders Tom Baker and Philip Moore, Diageo officially acquired the #1 Super Premium Coffee Spirit in the US.
AN AWARD-WINNING YEAR
In this same year, Distill Ventures and our portfolio went on to claim more titles including Pre-Accelerator winning The Spirits Business Ethical Award, Ritual Zero-Proof named the #1 Non-Alc brand in the US per Nielsen, Westward Whiskey's Cask Strength American single malt named #5 Whiskey of the Year by The Influential Whiskey Advocate.

h

2023
Today
As our global portfolio of incredible brands continues to grow, including the Spring cohort 2023 of our Pre-Accelerator program, we look ahead to another decade of partnering with innovative founders and continuing to build the drinks brands of the future.