Brands are being built differently these days. Consumers continue to seek out the companies where you can see through the marketing to the actual maker. Davids are beating Goliaths. This is the space where we operate – working with a portfolio of entrepreneurs from across the world who are launching and growing the star spirits brands of the future.
Distill Ventures is the world's first accelerator for new alcoholic and premium non-alcoholic drinks brands. We offer a combination of cash investment, mentoring and access to expertise – all in service of helping the founders of our portfolio companies grow their businesses to global scale. We have offices in London and New York City and to date, we've committed more than £60 million to over 15 founder-led brands around the world. Our portfolio ranges from the World's Best Craft Distilled Whisky Starward Whisky in Australia, to the world's first non-alcoholic spirit Seedlip.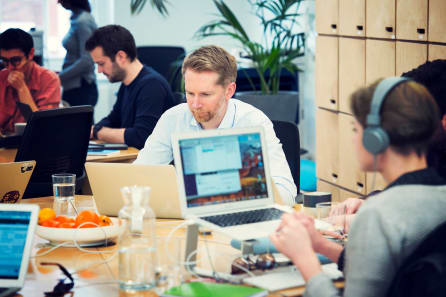 We're looking for a talented digital content expert to work closely with the founders and their teams. You'll help the companies develop their voice and messaging across digital and social channels, devise effective content strategies and assist them in executing the plan brilliantly.
You'll work with the entrepreneurs and their teams to develop their messaging and turn this into an effective content plan. The outcome is that each of our portfolio companies has a digital presence which effectively communicates their voice and helps them deliver their commercial goals.
You will assist teams with developing their content strategy, using case studies and best-in-practice examples to help them understand what a great plan looks like.
You'll support the development of copy and visual content and help with the sourcing and management of creative partners when required: photographers/videographers/graphic designers/copywriters.
You'll take the lead on tracking the best marketing and social media in the food and drink industry, showcasing what is setting the agenda and inspiring our entrepreneurs and their teams. This will include tracking the performance of each of our portfolio companies and benchmarking them against each other and the best of the industry.
You'll work closely with our e-commerce manager and performance marketer to coordinate and execute ambitious digital growth programs:
Implementation and optimisation of the messaging and creative aspects of campaigns on the Facebook/Instagram platforms.
Implementation and optimisation of brilliantly crafted email marketing campaigns.
Helping the companies to measure and report performance against core KPIs.
This is an entrepreneurial role and you'll also get involved in other areas of marketing and business such as:
interpreting data and insights from digital activities to optimise the product proposition and asset creation in other marketing channels.
producing brilliantly incisive assets (videos, case studies and framework) for our online hub where our portfolio companies access resources for self-learning.
looking for new opportunities for our portfolio companies to share their messaging – whether through influencers, podcasts or partnerships.
building a strong network within the digital marketing/social media/creative scene to stay at the forefront of what's happening and spot the best opportunities out there.
What we're looking for:
3-5 year experience experience in creating and executing content strategy – preferably startups or digital marketing agencies working on small to mid-size brands.
Superb command of English with ability to develop and follow a strong editorial line; other languages would be helpful.
A creative streak and keen eye for great content (imagery/video/copy).
Good grasp of marketing and how great brands are built.
Some understanding of key social media and digital marketing metrics.
You live and breathe social, are curious and always on the look out for new ideas.
The benefits
A unique opportunity to work with the founders of some of the most exciting drinks brands and to make a tangible impact on their business.
You'll be given lots of freedom in an entrepreneurial and risk-taking environment.
You'll be entitled a monthly allowance of portfolio products to take home.
You'll be based in central London.
Critical illness and death in service cover.
Holiday – 25 days per year + public holidays + office close between Christmas and New Year.
Contact hello@distillventures.com with your CV and a statement on why you are right for the role. We will be responding to top candidates during the first week of May.