The New World - Global Whisky comes of age
Discover how the whisky world is changing in our latest short film series.
h

What is New World Whisky?

NEW WORLD WHISKY IS A WHISKY THAT IS NOT PRODUCED IN SCOTLAND, IRELAND, CANADA, THE USA OR JAPAN OR A WHISKY MADE IN A STYLE NOT TRADITIONALLY ASSOCIATED WITH THE COUNTRY THAT IT IS MADE IN.
Presented by Distill Ventures
We're an independent accelerator led by entrepreneurs. We support founders as they work to create the global drinks brands of the future. Set up in 2013, our dedicated whisky vertical was founded soon after that and has been a focus ever since.
We look for ambitious teams with great alcoholic and non alcoholic drinks brands who want to take their business to the next level and become successful in both their home market and on a global scale.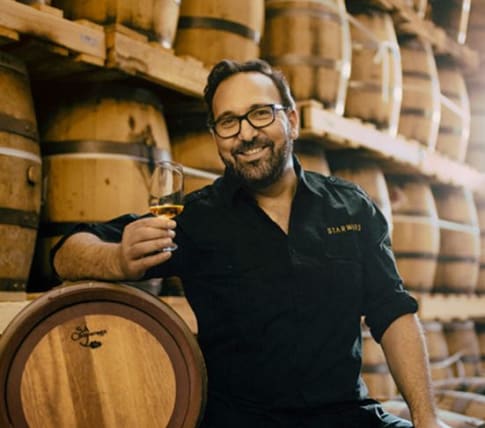 h

About the Series
The Drinkers explores what New World Whisky means to consumers, and how people are keen to educate themselves and discover interesting whiskies that offer a transparent, straight talking brand story.

The Creators interviews pioneering producers from around the world to reveal how they define this new category, what inspired them to experiment with new ingredients and production methods, and how they're breaking free from traditional expectations of what a whisky should be.

The Sellers focuses on how New World Whisky brands have reacted to rapidly changing shopping habits over the last 12 months. Many have had to quickly pivot to maximise online sales and keep consumers engaged. They've done this through digital shows, tastings, subscription-based offerings, and by developing new packaging which makes home delivery easier than ever before.
Flavour & Discovery concludes the series by revealing industry leaders' thoughts on what New World Whisky means to them and the wider category, as well as what can be done to entice, excite and educate consumers as they embark on their own journeys of discovery within this exciting new sub-category.
Episodes
The Drinkers
Whisky drinkers - they're not who you think they are
The Creators
What's driving innovation among whisky makers and distillers?
The Sellers
How have retailers responded to the challenges presented by Covid-19?
Flavour & Discovery
Let's work together to demystify whisky once and for all.
Want to learn more about New World Whisky?
Download our 2020 data release on category growth and innovation.
The Future of New World Whisky
As the popularity of New World Whisky continues to grow, we expect to see more distillers taking an interest and developing their own whiskies.
Interested in finding out more? Our video series above looks at all things New World Whisky, hear from the drinkers, distillers and sellers to discover how the whisky world is changing! Also, check our 'New World Whisky summit' where our panel of experts discuss the dynamic and exciting future of the world of whisky.